Wireless Networks That Keep Your Business Running
At Federated Service Solutions, we specialize in wireless infrastructure design for corporate, retail, healthcare, manufacturing, and hospitality industries. Whether you're opening a new facility or upgrading an existing network, we can design a fast, secure and stable wireless network to keep your business running.
Designing Enterprise Wireless Networks
Enterprise Network Security
Network security is a number one concern for most CIOs, and many CEOs.  With a new vulnerability coming out every week, keep up, and keep track of the myriad threats that all require different solutions. Plugging the dam without hindering your own users can be tricky.
We build security into our network design by doing it right the first time and by properly planning for the future. As you grow, we can scale the security of your network to meet new logistical challenges as well as respond to the constant changes in the world of cybersecurity.
Enterprise Network Stability
Downtime is money lost and when downtime occurs, every moment counts. We choose network solutions based on redundancy and quick reaction to infrastructure issues to ensure that sales are not lost and orders get placed. We're here to keep your network running all day, every day
Enterprise Network Speed 
Fast wifi and good connectivity is not just a 'nice to have', it's an expectation from customers and employees alike.
Designed for high-density use, and large network load size, our enterprise wireless solutions can handle the load and are the technology backbone of your business.
Creating a Wireless Network Plan For Your Enterprise
Our engineers use predictive site surveys to layout a network plan that considers all the factors that affect your network:
Interference
Saturation
Signal overlap
Number of users and devices
User/device density
Our design solutions include:
RCDD on staff to certify your network drawings
Predictive site surveys for planning the network
Passive & active heat mapping surveys for verification
Design & configure your hardware
Cost savings with cable pathways drawn in advance
Once your wireless network is installed we will verify signal strength to ensure coverage so you can deliver the best possible experience for your employees and customers.
Choosing Enterprise Wireless Network Equipment
Hardware and equipment choices impact your network performance. We'll support your wireless network plan with enterprise-grade equipment including:
Routers
Firewalls
Switches
Wireless Access Points
Hardware Security Filters
UPS
Our Enterprise Wireless Network Provider Partners
Once your network is designed and implemented, we work with our network hosting partners to make sure you get the support you need, and the security of a trusted name. We've got you covered, whether it be configuration, maintenance, or training.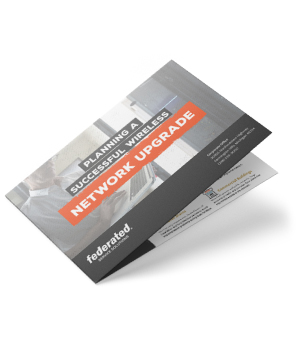 Use our WLAN Planning Guide to choose the tools and technologies that best match your goals and budget.