---
Enterprise WLAN Hardware & Accessories
---
Upgrade Your Hardware To Accelerate Your Business
We can help you choose the right network equipment and accessories for your business by asking the right questions and bringing new ideas to the table.
Enterprise Music & Paging Solutions
To provide the best possible sound experience for your customers you need the right audio equipment. There are many factors that affect sound clarity and sound coverage in your locations including the structure of the store, shelving unit placement, and ambient noise. We'll consult with you to develop a custom-designed solution, and we'll install American made products whenever possible.
Music and paging solutions are managed through a single point of contact and can deliver:
Custom solutions designed to provide the highest possible sound quality
CAD drawings/blueprints of your new music and paging system
Competitive end-to-end audio equipment pricing
Enterprise CCTV Solutions
We'll work with you to decide which of the many CCTV products and solutions out there makes the most sense for your stores and your budget, while still providing you with maximum coverage. We'll help you upgrade your current analog system to a mega pixel system at minimal cost.
CCTV solutions are managed through a single point of contact and can deliver:
Rapid deployment of your video surveillance system across all locations
Proactive monitoring of your systems and alerts when cameras go offline
Demographic analysis, facial recognition, customer accounting, and customer counters
Multiple site views so you can see all of your locations on one screen
Industry-Specific Hardware Solutions
From retail and corporate environments to hospitality, manufacturing and many others in between, we're ready to put our 14+ years of experience to work for you. We take the time to understand the complexities of your industry and your daily operational challenges. We'll provide competitive pricing and tap our expansive dealerships to get the product you need at the lowest possible price point.
We specialize in these hardware solutions:
Wireless Access Points
Point of Sale (POS) Systems
PCs/Phones
Laptops/Desktops
CCTV Systems
BI/Analytic Devices
Customer Call Buttons
Switch and Router Gear
Sound and paging equipment including speakers and amplifiers
Network Gear
Switches, routers, firewalls, servers
Questions To Ask Before You Upgrade
Before you choose your equipment, think about these questions:
How easily will this solution integrate into your network?
What is the lifespan of this new equipment?
What is the timeframe that this needs to be deployed under?
What is the budget for this project?
What are the stakeholder's expectations of this program?
Better Technology Means Better Business
Outdated network equipment costs you money and productivity. It can also compromise your security and your reputation. Upgrading your technology can position you to deliver the best possible customer service experience, while keeping purchases and personnel, secure.
When it's time to start planning that hardware upgrade let us put our knowledge and experience to work for you.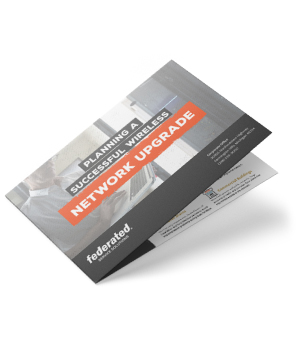 Use our WLAN Planning Guide to choose the tools and technologies that best match your goals and budget.